Klik x untuk menutup hasil pencarianCari di situs SABDASpace
Pesan penting untuk rakyat AS - terutama Partai Republik
By
victorc
- Posted on January 14th, 2021
Tagged:
Pesan penting untuk rakyat AS - terutama Partai Republik
Oleh Victor Christianto
Teks panduan:
Berbahagialah orang yang membawa damai, karena mereka akan disebut anak-anak Allah. - Matius pasal 5: 9
Artikel:
Marah. Kesal. Frustrasi. Putus asa.
Saya bisa merasakan perasaan itu di udara, sambil melihat apa yang terjadi di AS dalam beberapa bulan terakhir. Banyak demonstrasi turun ke jalan.
Dan terutama bagi Anda, Partai Republik, yang merasa ada yang tidak beres dengan pemilu terakhir pada November 2020. Meskipun beberapa perwakilan pengacara telah mencoba untuk membantah dan menyajikan fakta, semua upaya ini sia-sia. [1]
Sekarang, pertanyaannya adalah: apa yang harus Anda lakukan?
***
Anda mungkin pernah mendengar video terbaru dari Presiden Anda hari ini: dia mendesak rakyat Amerika untuk menjaga perdamaian dan menahan diri dari gerakan kekerasan. [2] Intinya, saya setuju sepenuhnya dengan pesannya dan merekomendasikan Anda untuk sepenuhnya mematuhi Hukum.
Menjaga perdamaian adalah bagian dari tugas kita sebagai anak Allah, seperti yang Yesus katakan dalam Matius pasal 5. Namun masih ada opsi yang bisa Anda pilih untuk dilakukan, sekaligus menjaga gerakan perdamaian. Lanjut membaca.
***
Ada masalah yang lebih mendesak, dari sekedar menanggapi hasil pemilu AS.
Izinkan saya meringkasnya dengan kata-kata sederhana sehingga Anda dapat memahami apa penyebab utama dari situasi ini. Di semua mata uang AS, ada moto tertulis: "Demi Tuhan kami percaya." Ini adalah pernyataan yang sangat bijaksana dan kuat.
Ilustrasi 1. Motto nasional "In God we trust" in US coin. (dari artikel Margaret Wood, In God we trust, https://blogs.loc.gov/law/2013/04/in-God-we-trust)
Tetapi apakah Anda semua takut akan Tuhan dalam beberapa dekade terakhir?
Dalam penelitian sosiologi, para sarjana mengetahui sebuah prinsip panduan yang diperkenalkan oleh Peter L. Berger, yang disebut: "ateisme metodologis." [3]
Masalah dengan negara Anda secara keseluruhan adalah kontradiksi langsung: dalam makalah mata uang Anda, Anda mengakui "Demi Tuhan, kami percaya," Tetapi Anda menolak Tuhan di sekolah umum Anda, di kantor kota, dalam proses peradilan, dan dalam masalah publik lainnya. Nyatanya, Anda mengembangkan "ateisme metodologis" dari sekedar prinsip melakukan penelitian, menjadi prinsip pedoman baru dalam setiap aspek kehidupan publik.
Seperti yang diperlihatkan dalam film populer, God is not dead, [4] jika seorang guru mencoba bercerita tentang Alkitab, tentang Yesus Kristus Juruselamat, atau tentang penciptaan, maka Anda akan tergesa-gesa menganiaya dan menghakimi. Dan Anda melarang anak-anak Anda untuk belajar agama Kristen, belajar dari Alkitab, atau melakukan doa-doa sederhana.
Itulah yang sebenarnya terjadi: Anda tidak ingin Tuhan lagi mencampuri kehidupan pribadi dan publik Anda.
Belajar dari sejarah USA, dimulai dari koloni-koloni Eropa yang mencoba mencari tanah baru, jauh dari masalah di Eropa. Kemudian mereka menemukan tanah perjanjian, di benua baru ini. Dan Anda diberkati di benua ini. Tetapi jika belajar dari sejarah Israel, meskipun mereka sudah datang ke tanah perjanjian, tetapi jika mereka lupa menyembah Tuhan, maka Tuhan mengirim mereka ke Babel.
Tapi Tuhan selalu menawarkan janji yang baik ... Dengarkan kata-kata-Nya, o umat AS:
14 Jika umat-Ku, yang dipanggil dengan namaku, akan merendahkan diri, dan berdoa, dan mencari wajah-Ku, dan berpaling dari cara jahat mereka; maka aku akan mendengar dari surga, dan akan mengampuni dosa mereka, dan akan menyembuhkan tanah mereka. [5]
Intinya, jika Anda masih peduli dengan negara Anda, maka tidak ada cara lain, Anda harus merendahkan diri di hadapan Tuhan Yang Maha Esa dan kembali kepada-Nya dan beribadah kepada-Nya saja. Kemudian Tuhan akan kembali kepada Anda dan Dia akan memulihkan negara Anda.
Sebagian besar dari Anda telah menyangkal dan menolak Tuhan Yang Mahatinggi dari sekolah umum dan kantor publik, seperti tembok Yerikho yang dibangun untuk menyangkal Tuhan. Oleh karena itu, karena Yosua dan orang-orang Israel membutuhkan waktu 7 hari untuk berjalan mengelilingi tembok Yerikho, Anda juga harus mengambil 7 hari untuk melakukan doa dan puasa, maka Anda harus menebus lagi sekolah umum dan kantor publik di sekitar kota atau kabupaten Anda atas nama Tuhan Yang Mahatinggi. (Demikian pula, Tuhan membutuhkan 6 hari untuk menciptakan langit dan bumi, dan Dia beristirahat di hari ke-7, jadi Anda harus melakukan beberapa pekerjaan selama 6 hari ke depan dan kemudian Anda dapat menemukan istirahat di hari ke-7).
Mungkin ada kesamaan antara langkah-langkah yang penulis usulkan berikut ini dengan gerakan ahimsa Gandhi, tetapi ini jauh lebih berbeda dari ahimsa. Jika mau, Anda dapat memanggil metode ini: Metode tujuh hari Yerikho.
15 Tujuh hari engkau harus mengadakan pesta yang khusyuk bagi Tuhan, Allahmu, di tempat yang akan dipilih Tuhan: karena Tuhan, Allahmu, akan memberkatimu dalam segala pertambahanmu, dan dalam semua pekerjaan tanganmu, oleh karena itu engkau pasti akan bersukacita. [6]
Langkah-langkah berikut khususnya penting jika Anda dan keluarga Anda masih berharap untuk mempersiapkan kedatangan Yesus Kristus yang kedua kali, yang akan segera datang kembali. ***
***
Jadi, jika Anda masih percaya kepada Tuhan Yang Maha Tinggi dan ingin mengembalikan Amerika menjadi benar-benar hebat lagi, berikut beberapa langkah yang dapat Anda lakukan untuk hari-hari mendatang - terutama dalam konteks pasca pemilu AS:
a. 15-16 Januari 2021: Umumkan pertobatan di seluruh negara Anda. Lakukan pertobatan pribadi dan keluarga. Berdoa dan berpuasa selama dua hari ini, Anda dan keluarga Anda. Cobalah untuk membuka Alkitab Anda lagi dan membacanya. Anda bisa mulai dari kitab Yesaya atau Injil Matius, misalnya.
b. 16 Januari 2021: Maafkan dan lepaskan. Maafkan semua orang yang membenci Anda, yang membenci Amerika, dan membiarkan kemarahan dan ketakutan Anda pergi. Berlatihlah untuk menarik napas dalam-dalam dan melepaskannya, ulangi langkah ini tujuh kali. Itu adalah praktik sederhana terapi Hawaii kuno, yang disebut Ho'oponopono [7] (Anda dapat membaca artikel kami [8]). Anda juga dapat membaca atau menonton beberapa video tentang teknik Melepaskan oleh Sir Prof. David Hawkins. [9] Dia adalah seorang psikiater yang bijak pada masanya.
c. 17-18 Januari 2021: Menulis petisi online. Saya tahu bahwa orang-orang jahat itu telah membanjiri mesin pemungutan suara Dominion dengan surat suara ilegal. Sekarang, yang dapat Anda lakukan adalah: buat petisi online, jangan membuat satu atau dua. Buat 10-15 petisi online, dan tanda tangani serta kirimkan ke Mahkamah Agung (Supreme Court) agar investigasi menyeluruh atas integritas sistem pemilu dan potensi penipuan.
d. 17-19 Januari 2021: Saya juga mendengar bahwa ada rencana protes besar-besaran selama 20 Januari 2021. Mungkin sebagian dari Anda berpikir untuk menggunakan riffles Anda, dll. Itu tidak baik. Anda tidak bisa melawan kebencian dengan kebencian, dengan cara yang sama Anda tidak bisa melawan api dengan api. Tapi Anda bisa memadamkan api dengan banyak air. Baca juga buku Prof David Hawkins: Power vs. Force. [10] Aku tahu ada rencana jahat yang dimainkan dengan kekuatan penuh melawanmu. Mereka menghasut ketakutan, kemarahan dan keputusasaan diantara kalian, melalui pandemi dll. Agar terjadi kekacauan. Tapi kekacauan adalah teknik Setan. Selain itu, orang-orang jahat itu membuat Anda untuk menjadi penuh ketakutan, putus asa, frustrasi, dan marah. Itu di bawah 200 dalam skala kesadaran. Satu-satunya cara untuk melawan kekuatan, adalah dengan menggunakan Power, yaitu pergi ke tingkat kesadaran yang lebih tinggi, melampaui 200 (lihat Ilustrasi 2 dan 3). Oleh karena itu: inilah yang dapat Anda lakukan. Anda harus tenang dan berpikiran damai. Taruh senapan dan pistol Anda di rumah, sebagai gantinya bawalah banyak bunga mawar. Mawar berwarna merah sehingga cocok untuk Anda sebagai Republik. Kemudian jika Anda pergi ke jalan, kirimkan bunga ini ke setiap petugas polisi dan satpam yang Anda temui di jalan. Dan juga kepada orang-orang Dems yang Anda temui. Bahkan jika ada orang yang mengatakan kata-kata kasar kepada Anda, atau bahkan menampar pipi kanan Anda, Berikan bunga dan pipi kiri Anda kepada mereka. Karena ada tertulis:
Tapi Aku berkara kepadamu, Jangan melawan orang yang jahat. Tapi jika ada yang menampar pipi kananmu, berikan juga pipi yang lain padanya. (Matius 5:39)
Jadikan itu Gerakan Damai. Dengan cara itu Anda menjadi anak-anak Allah Yang Mahatinggi. Selama tiga hari sebelum 20 Januari, turun ke jalan untuk melakukan empat tindakan ini: PFPW (doa, puasa, pujian dan penyembahan). Mintalah pengkhotbah dan pendeta lokal di antara Anda untuk membimbing Anda melakukan doa dan puasa dan beribadah di jalanan. Berdoa untuk para pemimpin Anda, berdoa untuk negara Anda, berdoa untuk kedamaian, berdoa untuk semua orang yang membenci Anda. Puji dan sembah Tuhan Yang Maha Tinggi yang selalu memberkati dan melindungi Amerika. Sekali lagi, lakukan dengan damai, dan jangan jatuh ke dalam perangkap untuk melakukan kejahatan dan kekerasan, sehingga penjaga dan polisi tidak akan menemukan alasan apa pun untuk memasukkan Anda ke penjara.
e. 19 Januari 2021: Menebus sekolah umum dan kantor publik. Ini adalah langkah terakhir, Anda masing-masing harus menyiapkan kertas putih besar sebanyak yang Anda bisa, tulis di kertas itu: "Orang-orang di gedung ini kembali kepada Tuhan - kami percaya kepada Tuhan." Kemudian Anda masing-masing harus berkeliling kota Anda, meletakkan kertas putih dengan kata-kata tertulis itu ke pintu depan di semua sekolah umum, kantor publik, kantor kota, kantor hakim, dan jika mungkin meletakkannya di pintu depan department store juga. Intinya, Anda harus berdoa dan memberkati semua sekolah umum dan kantor publik dalam nama Yesus Kristus, dan kemudian meletakkan kertas putih itu sebagai tanda untuk kembali dan mengklaimnya kembali untuk Tuhan Yang Maha Tinggi. Ini adalah langkah terakhir yang dapat Anda lakukan, dan Anda harus melakukannya dengan bersukacita dalam nama Yesus Kristus.
f. 20 Januari 2021. Tinggallah di rumah, terus berdoa dan berpuasa. Dan biarkan Tuhan melakukan yang terbaik untuk menyelamatkan negara Anda.
g. 21 Januari 2021 (hari ke-7): Bersukacitalah di dalam Tuhan Yesus Kristus. Anda harus berkumpul dengan seluruh anggota keluarga Anda di rumah Anda, dan membuat Komuni Kudus. Anda dapat menggunakan sepotong roti dan air jika Anda tidak memiliki sebotol anggur. Ayah atau ibu di rumah Anda harus memimpin Komuni. Kemudian setelah itu, bagikan beberapa makanan tambahan Anda kepada mereka yang tidak mampu dan membutuhkan di lingkungan Anda. Engkau harus bersukacita dalam Tuhan dengan sukacita, karena seperti yang tertulis dalam Mazmur 37: 4: Bersukacitalah di dalam Tuhan, dan Dia akan memberikan keinginan hatimu. (ESV) [11]
Kata penutup
Dalam pesan singkat yang mendesak ini, saya telah menjelaskan apa yang dapat Anda lakukan dalam beberapa hari mendatang dengan cara damai. Izinkan saya meyakinkan Anda, bahwa ini bukanlah perang fisik, tetapi perang spiritual. Jadi Anda tidak boleh menggunakan kekuatan fisik untuk melawannya, melainkan hanya berpuasa dan berdoa dan merebut kembali negara Anda dalam nama Yesus Kristus. Ingatlah bahwa ketika Anda bertobat dan kembali kepada Tuhan dan bersukacita di dalam Dia… Dia akan menjawab doa Anda dan memberikan apa yang Anda inginkan. Untuk menyimpulkan:
15 Tujuh hari engkau harus mengadakan pesta yang khusyuk bagi Tuhan, Allahmu, di tempat yang akan dipilih Tuhan: karena Tuhan, Allahmu, akan memberkati engkau dalam segala pertambahanmu, dan dalam semua pekerjaan tanganmu, oleh karena itu engkau pasti akan bersukacita. [12]
Semoga Tuhan memenuhi semua keinginan Anda dan mengembalikan negara Anda ke perdamaian dan ketertiban lagi.
Soli Deo Gloria!
Version 1.0: 14th January 2021, pk. 13:36
Victor Christianto
A humble servant of Jesus Christ
IG: @thirdelijah316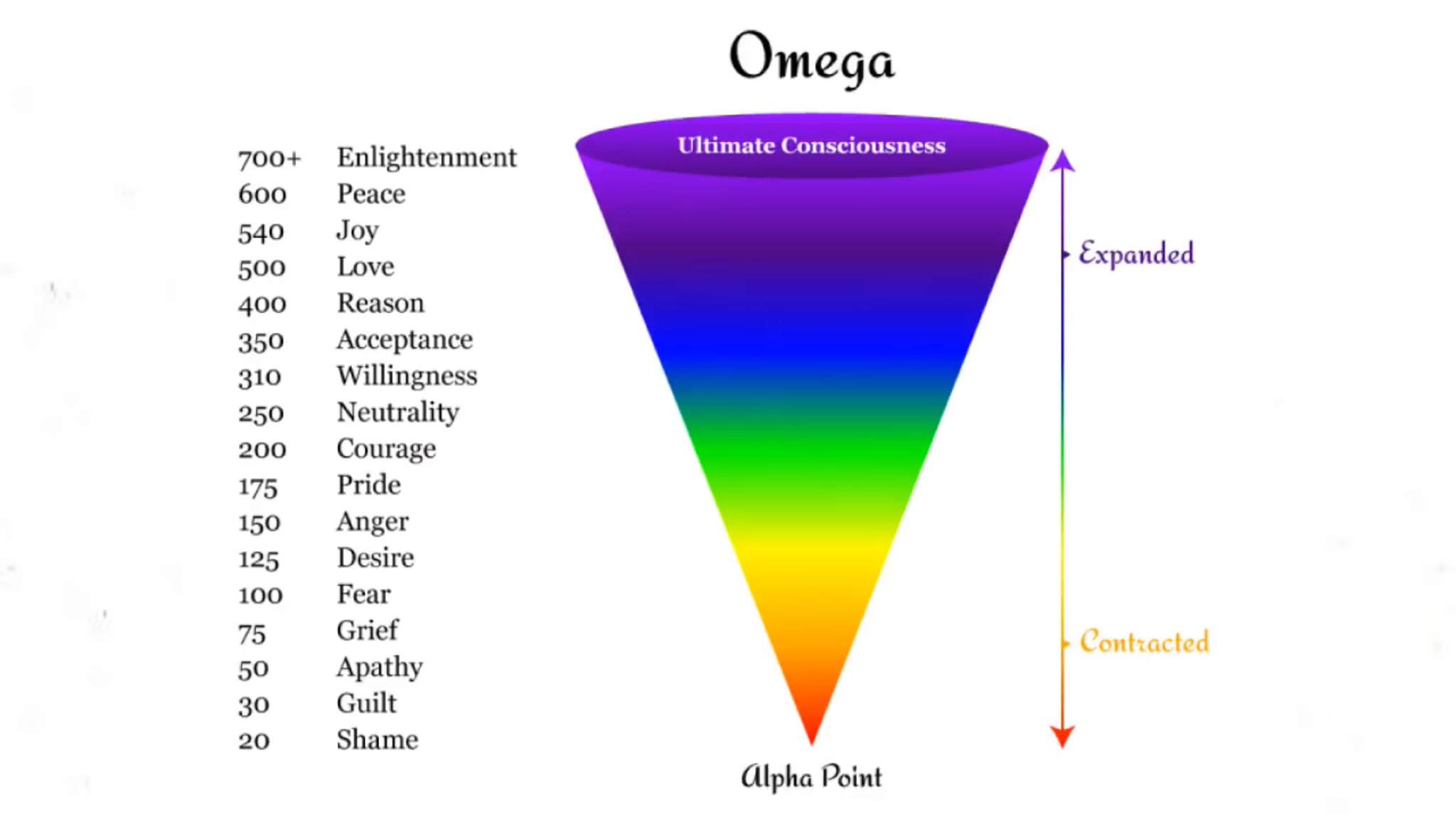 Ilustrasi 2. Skala Kesadaran menurut Prof. Hawkins
Ilustrasi 3. Peta Kesadaran dalam bentuk tabel
---
[1] Yesterday this writer has also sent our an op ed letter to several news outlet in USA, see this link: (PDF) Dominion-Leonardo-gate (Op ed letter - 13rd Jan. 2021) | V. Christianto - Academia.edu
[2] President Trump delivers message to the American people | One America News Network (oann.com)
[3] Methodological Atheism, Methodological Agnosticism and Religious Experience, Journal for the Theory of Social Behaviour | 10.1111/j.1468-5914.2006.00296.x | DeepDyve
[4] God's Not Dead (2014) - IMDb
[5] 2 Chronicles 7:14 KJV - If my people, which are called by my - Bible Gateway
[6] Deuteronomy 16:15 KJV - Seven days shalt thou keep a solemn - Bible Gateway
[7] You can read also a simple practice of forgiveness here: The Ho'oponopono Practice of Forgiveness – Cydney Mar Wellness
[8] (PDF) A Review on how an Ancient Forgiveness Way Called Ho'oponopono Can Boost Human Health and Immune System | V. Christianto - Academia.edu
[9] Letting Go: The Pathway To Surrender by David R. Hawkins (goodreads.com)
[10] See this video: Power VS. Force by David R. Hawkins | Book Summary & Ideas - YouTube
[11] Psalm 37:4 ESV - Delight yourself in the LORD, and he - Bible Gateway
[12] Deuteronomy 16:15 KJV - Seven days shalt thou keep a solemn - Bible Gateway
===
English version:
Urgent message to US people – especially Republicans
By Victor Christianto, email: vic104@protonmail.com
Guiding text:
"Blessed are the peacemakers, for they will be called sons of God." – Matthew chapter 5:9
Article:
Anger. Upset. Frustration. Despair.
I can sense those feelings in the air, while watching what happens in USA in recent months. Many demonstrations took the streets.
And especially for you, the Republicans, who feel that something has gone terribly wrong with the last election in November 2020. Although some rep lawyers have tried to argue and present the facts, all of these efforts have been futile.[1]
Now, the question is: what should you do?
You may have heard recent video by your President today: he urges people of America to keep peace and restraint from violence movements.[2]
In essence, I agree completely with his message and recommend you to fully abide with the Law. To keep peace is part of our tasks as the sons of God, just as Jesus told in Matthew chapter 5.
But there are still options you can choose to do, while keeping peace movement. Continue reading.
***
There is a more urgent problem, than just responding to US election result.
Let me summarize it in simple words so you can understand what is the root cause of this situation. In all US currencies, there is written motto: "In God we trust." It is a very wise and strong statement indeed.
Illustration 1. US National motto: in God we trust, in US coins. (source: Margaret Wood's article: In God we trust.)
But are all of you trying to fear God in the recent decades?
In sociology research, scholars know a guiding principle introduced by Peter L. Berger, called: "methodological atheism."[3] The problem with your country as a whole is a direct contradiction: in your currency paper you admit "In God we trust," but you reject God in your public schools, in municipal offices, in justice proceedings, and in other public issues. In fact, you expand the "methodological atheism" from just a principle for doing research, to become a new guiding principle in every aspect of public life.
As shown in a popular movie, God is not dead,[4] if a teacher tries to tell a story about the Bible, about Jesus Christ the Saviour, or about creationism, then you will be hurry to persecute and bring them to judge. And you ban your children to study Christianity, to learn from Bible, or from doing simple prayers. That is what really happens: you don't want God anymore to interfere in your personal and public life.
If you learn from USA history, it began from colonies from Europe who tried to find a new land, far from problems in Europe. Then they found a promised land, in this new continent. And you were blessed in this continent.
But if you learn from history of Israel, even if they already came to a promised land, but if they forgot to worship God, then God sent them to Babylon.
But God always offers a good promise…Listen to His words, o US people:
14 If my people, which are called by my name, shall humble themselves, and pray, and seek my face, and turn from their wicked ways; then will I hear from heaven, and will forgive their sin, and will heal their land.[5]

In essence, if you still care to your country, then there is no other way, you must humble yourself before God almighty and return to Him and worship to Him only. Then God will return to you and He will recover your country.
Most of you have denied and reject God the Most High from public schools and public offices, just like Jericho wall was built to deny God. Therefore, as Joshua and the people of Israel took 7 days to walk around the wall of Jericho, you should also take 7 days to do prayer and fasting, then you must redeem again public schools and public offices around your town or county in the name of God the Most High. (Similarly, God took 6 days to create the heavens and the Earth, and He rested in 7th day, so you must do some work for the next 6 days and then you can find rest in 7th day). There is a similarity perhaps with the proposed steps with Gandhi's ahimsa movement, but this is a lot more different than ahimsa. If you wish, you may call this method: Jericho seven days method.
15 Seven days shalt thou keep a solemn feast unto the Lord thy God in the place which the Lord shall choose: because the Lord thy God shall bless thee in all thine increase, and in all the works of thine hands, therefore thou shalt surely rejoice.[6]
The followings steps are especially important if you and your family still hope to prepare for the second coming of Jesus Christ, who will come again soon.
***
So, if you still believe in God the Most High and want to return America to really great again, here are some steps you can do for the days to come – especially in the context of aftermath of US election:
a. 15-16th January 2021: Announce repentance throughout your country. Do personal and family repentance. Do pray and fasting for these two days, you and your family. Try to open your Bible again and read it. You can begin from the book of Isaiah or Gospel of Matthew, for instance.
b. 16th January 2021: Forgive and letting go. Forgive all people who hate you, who hate America, and letting your anger and fear go. Practice to take a deep breath and release it, repeat this step seven times. That is simple practice of ancient Hawaiian therapy, called Ho'oponopono[7] (you can read our article[8]). You can also read or watch some video on Letting Go technique by Prof. David Hawkins.[9] He was a very accomplish psychiatrist.
c. 17-18th January 2021: Write online petitions. I know that those evil people have flooded Dominion voting machines with illegal ballots. Now, what you can do is : create online petition, don't create one or two. Make 10-15 online petitions, and sign them and send them to the Supreme Court in order there will be thorough investigation on election system integrity and potential fraud.
d. 17-19th January 2021: I also hear that there is plan of massive protests during 20th January 2021. May be some of you thinking of use your riffles etc. That is not good. You cannot fight hatred with hatred, in the same way you cannot fight fire with fire. But you can fight fire with plenty of water. Read also Prof David Hawkins's book: Power vs. Force.[10] I know there is an evil plan is played with full force against you. They incite fear, anger and despair among you, through pandemic etc. In order there will be chaos. But chaos is the technique of Satan. Moreover, those evil people incite you to be full of fear, despair, frustrated and anger. That is below 200 in the scale of consciousness. The only way to fight the force, is to use Power, that is to go in the upper scale of consciousness, beyond 200. Therefore: this what you can do. You should be calm and peace in mind. Put your riffles and pistols at home, instead bring with you plenty of rose flowers. Rose is red so it fits to you as Republicans.
Then if you go to streets, send these flowers to every police officer and security guard that you meet in the street. And also to Dems people that you meet. Even if there are people who say harsh words to you, or even slap you in your right cheek, Give them your flower and your left cheek. Because it is written:
But I say to you, Do not resist the one who is evil. But if anyone slaps you on the right cheek, turn to him the other also. (Matthew 5:39)
Make it a Peace Movement. That way you become the sons of God the Most High.
During the three days before 20th January, go to streets to do these four acts: PFPW (prayer, fasting, praise and worship). Ask local preachers and pastors among you to guide you to do prayers and fasting and worship in the streets. Pray for your leaders, pray for your country, pray for peacefulness, pray for everyone who hate you. Praise and worship God the Most High who always bless and protect America. Again, do it peacefully, and don't fall into trap to do harms and violences, so the guards and polices will not find any cause to get you into jail.
e. 19th January 2021: Redeem public schools and public offices. This is the final step, each of you should prepare large white paper as many as you can, write on those papers: "People in this building return to God – in God we trust." Then each of you should go around your city, put those white papers with written words to the front doors at all public schools, public offices, municipal offices, judge offices, and if possible put them at the front doors of department stores too. In essence, you should pray and bless all public schools and public offices in the name of Jesus Christ, and then put those white papers as a sign to return and reclaim them for God the Most High. This is the final step that you can do, and you should do it with rejoicing in the name of Jesus Christ.
f. 20th January 2021. Stay at home, keep on praying and fasting. And let God do His best to save your country.
g. 21st January 2021 (the 7th day): Rejoice in the Lord Jesus Christ. You should gather with your whole family members in your house, and make a Holy Communion. You can use a loaf of bread and water if you don't have a bottle of wine. Father or mother in your house should lead the Communion. Then after that, distribute some of your extra foods to those who are poor and needy in your neighbourhood.
You should rejoice in the Lord with delight, because as it is written in Psalm 37:4:
Delight yourself in the Lord, and he will give you the desires of your heart. (ESV)[11]
Concluding remarks
In this short urgent message, I have explained what you can do in the coming days in peaceful manner. Let me assure you, that this is not a physical war, but a spiritual war. So you should not use physical forces to fight it, instead just do fasting and prayers and reclaim back your country in the name of Jesus Christ.
Just remember that when you repent and return to God and rejoice in Him…He will answer your prayers and give you what you desire.
To conclude:
15 Seven days shalt thou keep a solemn feast unto the Lord thy God in the place which the Lord shall choose: because the Lord thy God shall bless thee in all thine increase, and in all the works of thine hands, therefore thou shalt surely rejoice.[12]
May God fulfil all your wishes and return your country to peace and order again.
Soli Deo Gloria!
Version 1.0: 14th January 2021, pk. 13:36
Victor Christianto
A humble servant of Jesus Christ
IG: @thirdelijah316
---
__________________
Dari seorang hamba Yesus Kristus (Lih. Lukas 17:10)

Prepare for the Second Coming of Jesus Christ, http://bit.ly/ApocalypseTV

1 user menyukai ini
Login to post comments

3040 reads